Punta Cana is a resort town within the Punta Cana-Bávaro-Verón-Macao municipal district, in the municipality of Higüey, in La Altagracia Province, the easternmost province of the Dominican Republic. With 35 km of continuous white sand, Bavaro – Punta Cana has no shortage of beautiful beaches. The beaches around Punta Cana are some of the best in the Caribbean. Ask anyone who's been to Punta Cana, and they will tell you that the beaches are among the most picturesque that they've ever seen.
North Part
Bavaro Beach – The main touristic beach in Bavaro, Playa Bavaro is beautiful with powdery white sand and coco palms leaning onto the shore. Bavaro beach is very long and an evening walk along Playa Bavaro can seem endless. Walk pass the gift shops and find your perfect spot on the beach.
El Cortecito & Los Corales – With no access restrictions, El Cortecito Beach and Los Corales, in the heart of Bavaro, is like a small fisherman's village where you will find restaurants, bars, supermarkets, shopping centers and many gift and craft shops nearby.
Arena Gorda – Also known as the Fat Sand Beach because of its wide sand beach that slopes gently down to the sea. Shallow water give this beach its beautiful blue color and many people say this beach it's perfect for kids.
Macao Beach –  An undeveloped, virgin beach around 20 to 30 minute drive north of Bavaro. There is Macao Surf Camp, where you can rent or get surfing lesson, and restaurants right on the beach. Macao beach is popular between local Dominicans (especially at weekends).
Uvero Alto – Uvero Alto is not a well-known beach area. The area outside of the resorts and hotels is relatively undeveloped and with nowhere else to eat or shop. The beach is very wide, with lush green coconut forest leaning onto it.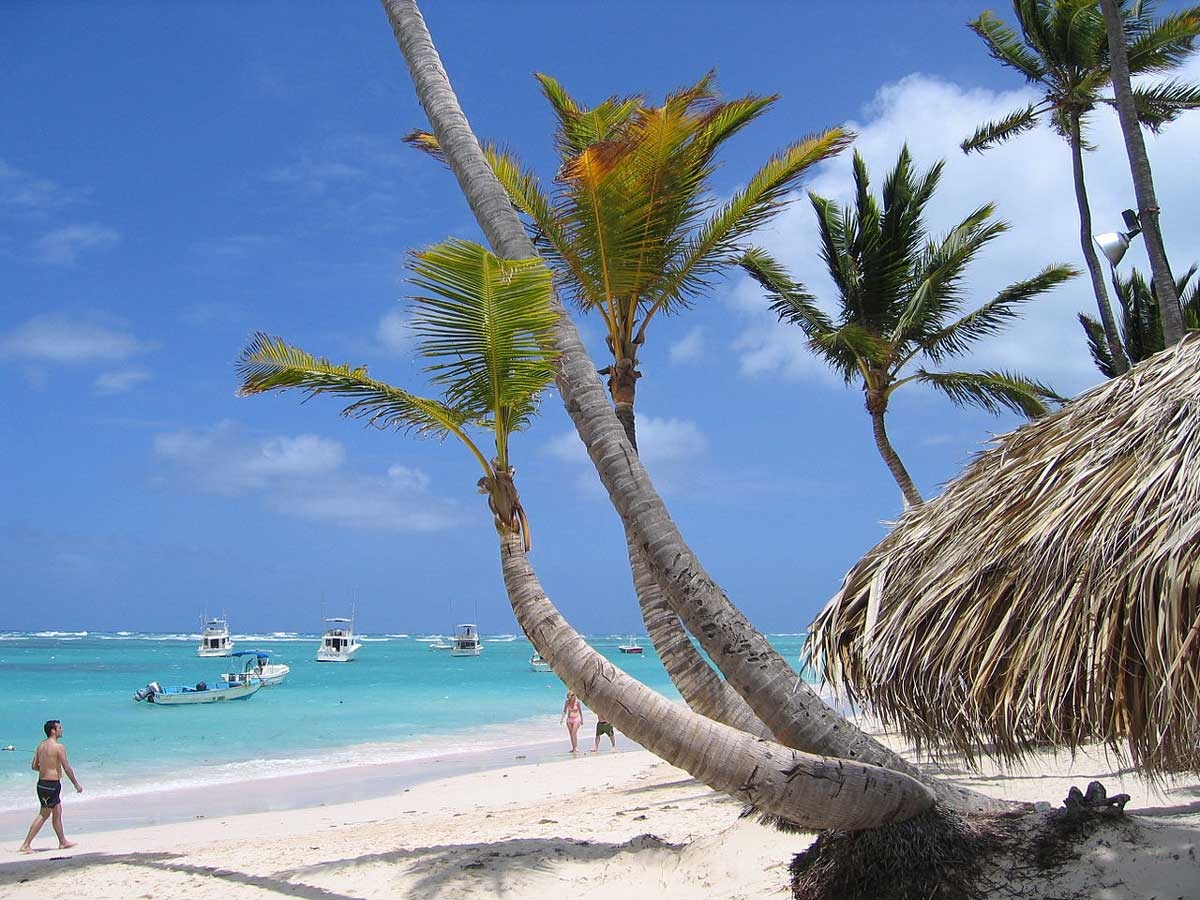 South Part
Cabeza de Toro – Playa Cabeza de Toro is the perfect place if you want to be surrounded by the natural beautiful forests and wildlife of Punta Cana. Has "Blue Flag" European certification guarantees that the beach is always in fantastic shape and therefore is a popular beach for tourists. Cabeza de Toro Yacht Club is a departure point for fishing trips and fishing tournament sites.
Playa Blanca – A shallow water beach area that is perfect for kids as well as kite and windsurfing. This white sand beach has very calm / clear water and can be a good photo spot.  To get there, you will have to pass through the gated area of the Punta Cana's Resorts. Playa Blanca is very secluded. Secluded and beautiful, with a nice restaurant/bar next to it, one can spend a whole day here.
Juanillo – Juanillo is a beautiful secluded beach toward the south end of Punta Cana, in Cap Cana area. There is a beautiful beach restaurant here with cabanas and beach lounge sofas. The food is a bit pricy, but the area is luxurious and beautiful. The colorful Volkswagen van next to the restaurant makes for a good photo. Just mention you are going to Juanillo and hand over your ID, driver license, or passport.