Saint Lucia is an island that you must visit at least once in your life and you will surely repeat it. It is a paradisiacal destination that you will really enjoy renting a boat and sailing through its turquoise waters visiting its most beautiful corners full of beaches without overcrowding. Rent a luxury yacht, a comfortable catamaran or a private motorboat and discover this island that will relax and inspire you in equal parts. Here you can see all the boats for rent in Saint Lucia.
You just have to choose between renting sailboats in Santa Lucia, renting motorboats in Santa Lucia, renting sailboats in Santa Lucia, renting boats in Santa Lucia, renting catamarans in Santa Lucia with crew, renting luxury boats in Santa Lucia or shared excursion in Santa Lucia. Also rental and charter of catamarans in Saint Lucia, crewed boats in Saint Lucia and luxury yachts in Saint Lucia to enjoy a boat vacation in Saint Lucia, sailboats and catamarans in Saint Lucia. Ready?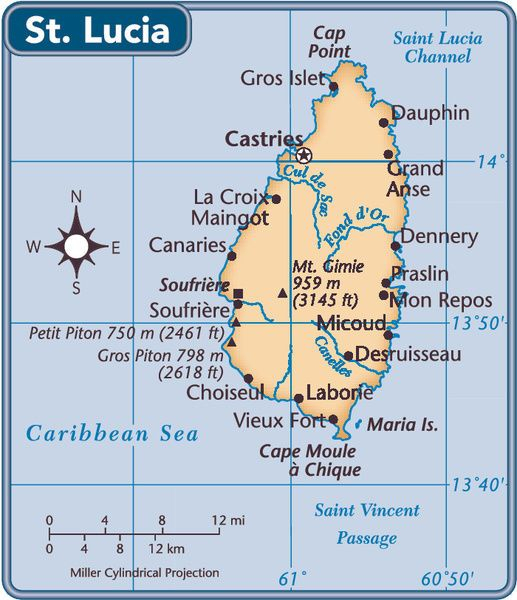 What to visit in St. Lucia?

Saint Lucia is an island full of beauty, a place where Caribbean, African, French and English cultures converge, resulting in an exquisite mix of food, music and traditions. It is an island with a great maritime tradition and its landscapes, people, food and customs make it an ideal destination for the vacation of a lifetime. English is the official language but most of the inhabitants also speak Creole: Potaois.
Located in the Caribbean Sea, it is the largest of the Caribbean Windward Islands. The Windward Islands include Martinique, Saint Vincent and the Grenadines, Barbados, Trinidad and Tobago, and Grenada. It is in a chain of islands in the Lesser Antilles with Martinique to the north and Saint Vincent and the Grenadines to the south. These islands are southeast of the British Virgin Islands, Puerto Rico, Dominican Republic… Of the two airports in St.Lucia, Hewanorra and Charles Airport, Rodney Bay is closer to the latter.
1. Anse Cochon
Thanks to its transparent waters, it is one of the best spots for snorkeling and diving on the island. It is a secluded bay in St. Lucia and one of the most popular places for day trips by boat.
Anse Cochon Beach
It is the most popular beach on the island and is located 11.6 km. of Castries, the capital. It is located in an urban area, between mountains and partially covered by trees that provide natural shade. It is a coastline with crystal clear turquoise waters and golden sand and best of all, it is not very crowded. An important part of the beach has restricted access to hotel guests and it is possible to carry out different water activities such as catamarans or jet skis.

2. Castries
Castries is the capital of Saint Lucia, a small Caribbean island between Saint Vincent and the Grenadines (to the south) and Martinique (to the north) and belongs to the British Commonwealth. It is the commercial center of the nation and its activity revolves around the port, one of the best in the eastern Caribbean. The city is very small and has few inhabitants.
George F. L. Charles Airport serves the city, but most international flights arrive at Hewanorra International Airport near Vieux Fort on the southern tip of the island. You can rent a boat to visit Soufrier, a city in the west of the island.
The visit to Castries cannot ignore its most picturesque part: the market. You can also visit the Cathedral, Dereck Walcott Square and the Botanical Garden.
Vigie Beach
It is located in Castries and is the longest beach in Saint Lucia. It has golden sands, is very quiet and very visited by locals on weekends.
Rent a boat with crew in Castries

3. Gros Islet
It is located in the extreme north of Santa Lucía and is a destination that is attracting more and more tourists. The best option for exploring the coast is the Island Riders, where veteran riders and beginners alike can ride horses and chat with the locals. You can not miss the Jump Up party that is celebrated in the street that is one of the most famous attractions of the city. If you get up close, you'll be able to savor Gros Islet's unique blend of music and cuisine.

4. Marigot Bay
Marigot Bay is a stretch worthy of a postcard that offers small white sand beaches surrounded by palm trees, turquoise waters and green slopes, a tropical paradise well worth a visit.

5. Pitons
Located along the southwestern coast of Saint Lucia and protected as a UNESCO World Heritage Site, the spectacular twin peaks of Gros Piton and Petit Piton are among the Caribbean island's most memorable sights. Rising 798 meters above sea level, Gros Piton, the larger of the two, is also a popular challenge for hikers.

6. Rodney Bay
Rodney Bay is a very popular town for tourists and a bay located in the district of Gros Islet on the island of Saint Lucia. There are dozens of hotels and the two largest shopping malls on the island and the Treasure Bay Casino. It is also known for the variety of food served in restaurants and cafes and for its great maritime activity. Tourists rent private boats: yachts, catamarans or speedboats to move around the island.

7. Soufrière 
Soufrière is one of the ten districts into which Saint Lucia is divided and is a relatively undeveloped city. In 1736 it became the first city founded by French settlers in the country, most of whom came from the island of Martinique. As a backdrop are the Pitons, the sea and the jungle, to relax in an environment that has it all. Considering its name is "sulfur" in French, it should come as no surprise to discover how many hot springs and mineral baths there are. Also not to be missed are Diamond Botanical Gardens, Toraille Falls, visiting Sulfur Springs (the crater pools of the Qualibou Volcano), the beautiful beaches, and the bike paths that wind through the Anse Mamin sugar plantation.
Anse Chastanet Beach
It is located on the outskirts of the city, just in front of the Pitons Mountains. The sand, of volcanic origin, is dark and fine. Its waters of the Caribbean Sea are calm and its temperature is very pleasant. You can see colorful tropical fish and in deeper waters there is a coral reef. It is a popular spot for snorkeling and diving.
Cas en Bas Beach
At the northern end of St. Lucia's windward coast, Cas en Bas beach is one of the best kitesurfing and horseback riding spots on the island, with regular trade winds blowing onshore and a sheltered cove where the water remains calm and crystal clear. It is an ideal destination for families and has a restaurant right on the beach.
Tips and additional information:
What to take in your suitcase

Light clothes to go to the beach: booties, swimsuits, sarongs, t-shirts, shorts, fresh dresses, hat and sunglasses. Sunscreen and repellent cream. A thin jacket for the nights, which refreshes. Add one or two dressier clothing styles in case you want to go out or have dinner.
Weather
It has a tropical weather, warm throughout the year, with a relatively cool and dry season from January to mid-April, and a hot, muggy and rainy season from mid-June to November.