Do not wait for Valentine's Day to spend a perfect and romantic day with your better half. Dominican Republic is a perfect place to travel either with family, with friends, alone… In search of adventure, relaxation, beach and sun, nature in its purest state, paradisiacal beaches … But without doubt it, it is a perfect destination for life lifemates who wish to share unique and unforgettable moments.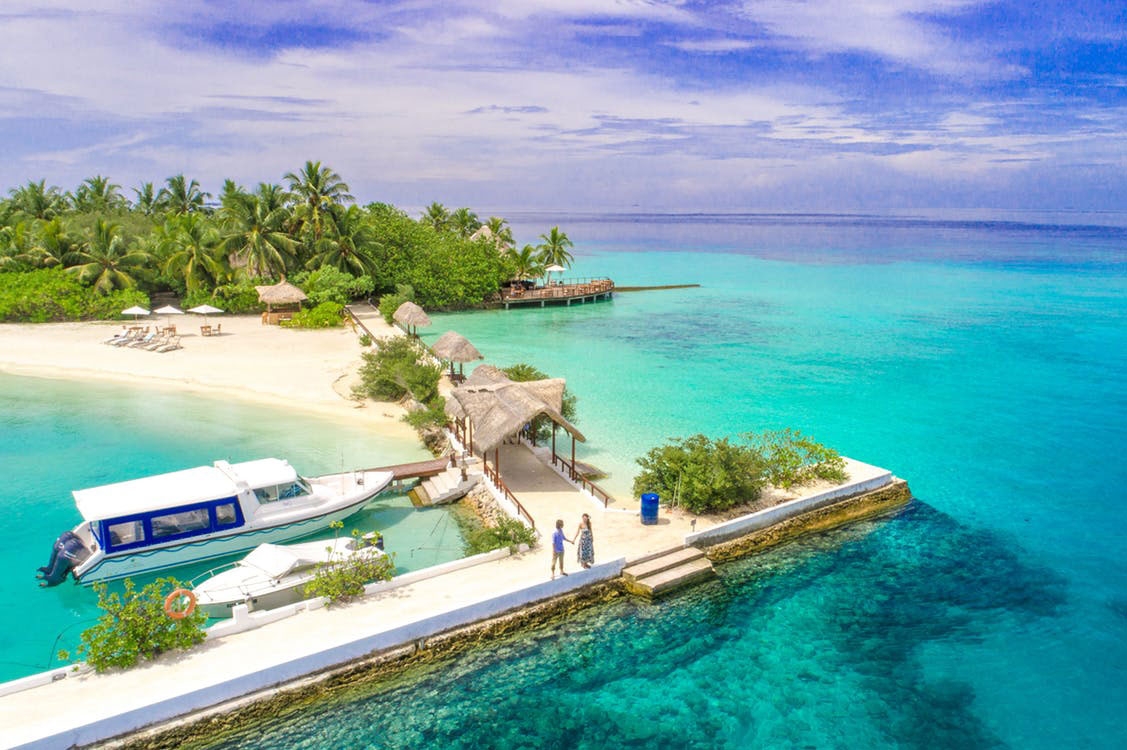 A perfect plan could be to rent a catamaran and travel to hidden places, where you can only arrive by private boat, like a virgin beach in Saona Island or to snorkel in Catalina Island … Other options are: booking an excursion, go to see the whales in Samaná, receive a couple class of surf or kitesurfing in Cabarete, escape a day of fishing in Casa de Campo / Cap Cana or leave the hotel in Punta Cana to enjoy a trip on a sailboat.
And if you're getting married, what's more original, nice and special than have a wedding on a boat? You can rent a private island for you and your guests. The options are endless, the limits are set by you.
Whether to celebrate the honeymoon, get away as a couple, make a marriage request or just spend quality time together, Dominican Republic is the ideal setting to celebrate love.
These are some of the most special places in the Dominican Republic to enjoy as a couple:
NATURAL PARADISE AND ROMANTICISM IN SAMANA. The peninsula of Samaná, located on the north coast of the country, is the ideal destination for those couples who seek nature in high doses. In the middle of its undulating mountains and valleys, the crystalline rivers that flow into the Atlantic run, while fascinating beaches of golden sand spread throughout the peninsula. Samaná is the classic Caribbean postcard of coconuts and tropical jungle, and incomparable beaches. The hotels offer boat trips to Cayo Levantado, a paradise to meet as a couple and snorkel. In addition, the peninsula is a destination for ecotourism adventures such as bodyboarding and kitesurfing in Las Terrenas; hiking, birdwatching and caves in the Los Haitises National Park, and canyoning to reach the El Limón waterfall.
CULTURE AND GASTRONOMY IN SANTO DOMINGO. The capital city of the Dominican Republic is distinguished by its vibrant and cosmopolitan spirit, its historical wealth, a wide cultural offer and hotels of different categories. The cobblestone streets of the Colonial City, recognized by UNESCO as a World Heritage Site, lead to the architectural wonders that the Spaniards built during colonial times, as well as to many museums and squares. On weekends, the area is full of music and culture, with a great nightlife, ideal for couples who like to dance, taste exotic cocktails and meet new friends. Santo Domingo has restaurants for all tastes, where the most exquisite local and international cuisine is served by renowned chefs. If shopping is concerned, in different parts of the city are shopping centers that host recognized exclusive brands. And to end the day, nothing better than a romantic walk along the Malecón enjoying the sunset.
ELEGANCE AND LUXURY IN LA ROMANA: Just over an hour from Santo Domingo, to the east, La Romana combines the beauty of the landscape with one of the most luxurious accommodation, services and activities, including golf, polo and tennis. The destination that exceeds luxury and comfort, meets the main conditions required in the trips of lovers. It is essential to visit Altos de Chavón, a small village built by artisans in 1976 as a replica of the old Mediterranean villas of the 16th century. Located on a hill, next to the banks of the Chavón river, its cobblestone paths and its walls, buildings and fountains seem to have been brought from another time. For those who want to celebrate love with a unique wedding, they can do it here, either in the beautiful St. Stanislaus Chapel, all of stone, or on the steps of the great amphitheater. Here you can also enjoy an art gallery with modern pieces of Dominican art and an archaeological museum that collects the island's Taíno heritage.
ADVENTURE AND FUN IN PUERTO PLATA: For couples who love movement and adventure, the options in Puerto Plata, on the north coast of the island, are inexhaustible. It is a first class destination for kiteboarding, windsurfing and sailing thanks to its warm waters and perfect wind conditions. Cabarete is one of the most popular towns. Shops, restaurants, eclectic bars, live shows and discos invite couples to enjoy love in a bohemian and informal atmosphere. Puerto Plata is home to the small town of Rincon Caliente, the birthplace of the renowned Dominican merengue. The visit there includes meeting teachers and luthiers, makers of musical instruments that give life to the rhythm, as well as seeing a merengue show and having the opportunity to acquire local crafts.
BEACH AND RELAX IN PUNTA CANA: There is a simple option that never fails when it comes to a trip to celebrate love: beach life. In Punta Cana, that plan is combined with exclusivity and well-being. The rest on the white sand beaches and transparent waters is accompanied by the many services offered by the hotels and resorts all inclusive: drinks and dishes that are served at all times, spa services, massages and body treatments as a couple, intimate dinners a Moonlight, exclusive breakfasts and customized entertainment packages. Punta Cana is a constant invitation to enjoy shared leisure; For this reason, it complements its beach offer with a very good tourist and commercial infrastructure, which includes international brand stores, restaurants, bars, casinos and fun excursions to theme parks, where you can do more daring activities, such as launching a zip line in In the midst of a lush environment, swim in natural lagoons and take a hot air balloon ride while enjoying a cup of sparkling wine.